SCOTTSART A U C T I O N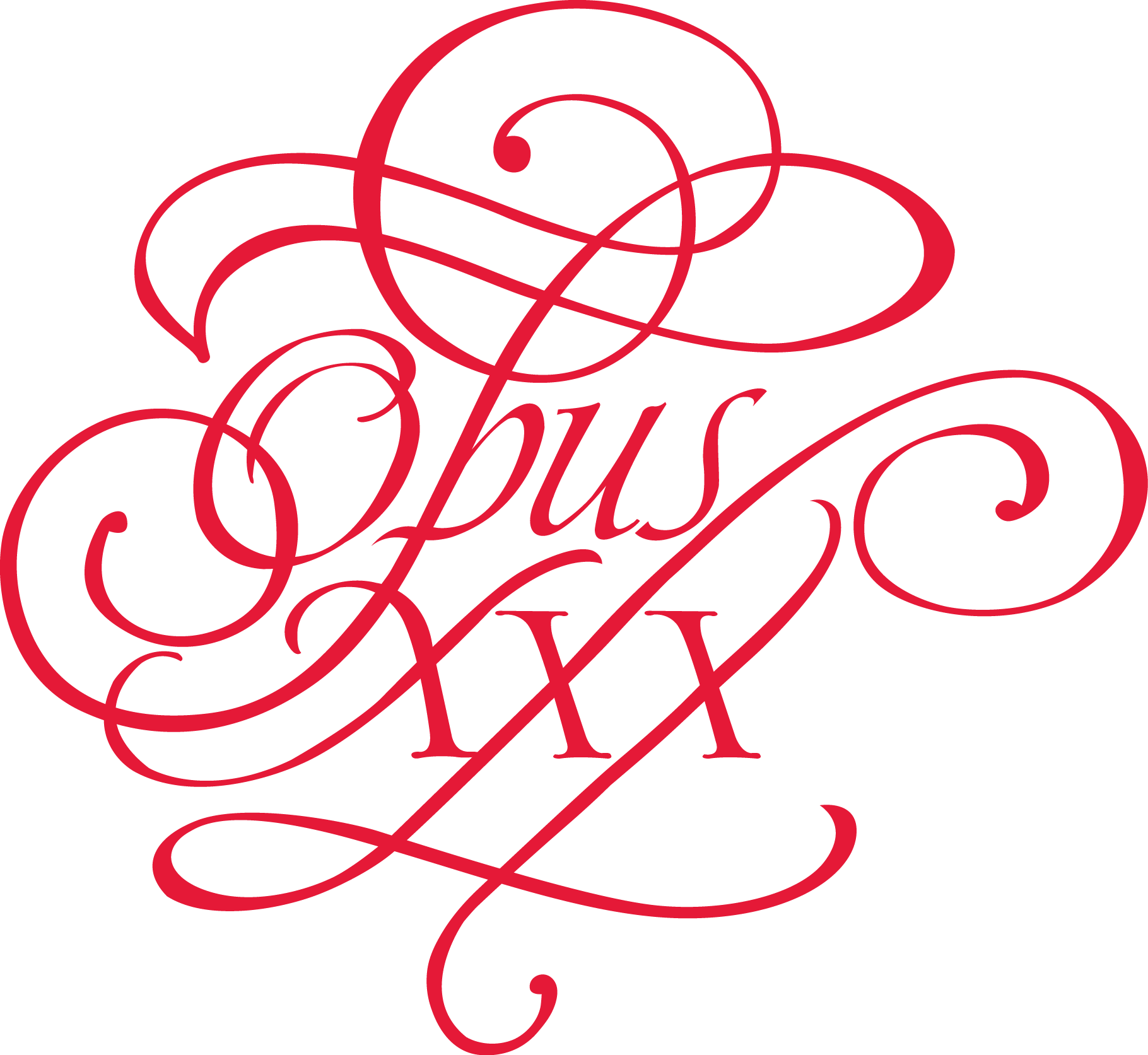 OPUS BALL XXX
November 1st, 2014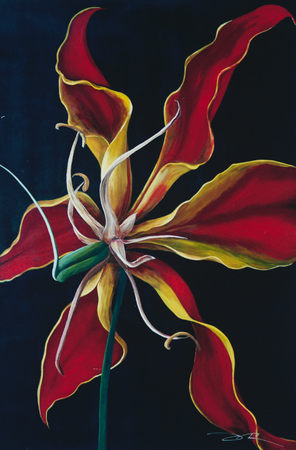 This painting will be for auction and is 80 inches tall and 56 inches wide framed.
Elizabeth Stinnett
Co-Chair
Opus XXX
Dr. Chris Stinnett
Co-Chair
Opus XXX
"This year marks the 30th anniversary of the Opus Ball. We hope to recognize the occasion by orchestrating an exceptional event, one that not only provides guests with an elegant evening and a memorable experience, but also produces generous support of the Arkansas Symphony Orchestra and its community endeavors.
With the remarkable efforts of last year's co-chairs Susan and Nick Brown, Opus XXIX generated over $450,000 towards the support of ASO's music education and outreach programs throughout the state of Arkansas. With your support, it is our goal to achieve and surpass the success of previous years. We sincerely ask you to consider becoming a Patron to help us reach our goals so that we can continue providing these programs for the children throughout the state. When you become Patrons of Opus XXX, we shall request the honor of your attendance at two very special evenings.
This year's grand ball will take place on Saturday, November 1, 2014 at the lovely Capital Hotel, reserved in its entirety for the event. The evening will begin with cocktails and hor d'oeuvres. Enjoy a full bar, champagne, and a signature cocktail created by the Capital Hotel's exceptional mixologists created just for this event. As you socialize with fellow supporters, it will be an ideal time for viewing our fabulous silent auction items, which will include many unique and one of a kind items. Next, we will begin our live auction, which will be hosted by the incomparable Craig O'Neill who will put forth his best effort to encourage your generosity to have the winning bid on exotic trips, one of a kind jewelry, and elaborate parties arranged by some of Arkansas' most renowned hosts and hostesses. Upon conclusion of the live auction, dinner will be presented in six elegantly appointed dining areas. You will be served fine fare created by One Eleven Restaurant's Chef, Joël Antunes, accompanied by perfectly paired wines. After dinner, dance the night away with the sensational Arkansas Symphony Orchestra Big Band or relax with your friends in the Capital Bar & Grill with a drink and a late night snack.
A perfect way to end this magical evening would be to head upstairs and stay in one of the Capital Hotel's elegant rooms. The entire hotel is yours to enjoy! When purchasing a hotel room, you are able to check in by 3 o'clock the afternoon of the ball. You will be able to peruse the silent auction, begin bidding on your favorite items, and enjoy a cocktail before heading upstairs to get ready for the ball. The overnight package also includes a fabulous breakfast the next morning in One Eleven Restaurant. What a perfect way to complete your Opus weekend!"
For any questions that you may have, please contact Kelly Parker, Special Events Coordinator, at (501) 666-1761, ext. 114 or kparker@ArkansasSymphony.org. As a friend of the Symphony, we invite you to join us in supporting and celebrating forty-nine years of great symphonic music. We look forward to seeing you on October 2nd at the Patrons' Party and again on November 1st at Opus XXX – The Symphony Grand Ball. It is more than an event, it is an experience!"
http://www.opusball.org/the_ball
Catholic High School Auction
October 26th Little Rock, AR
C13-007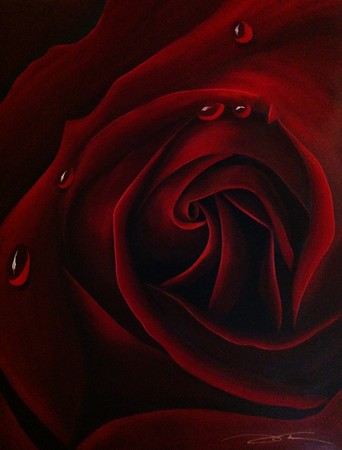 Rexfest CTK 2012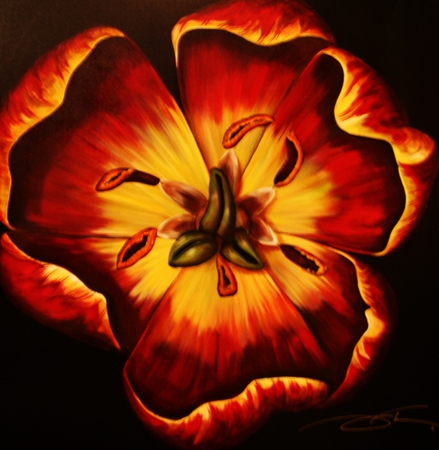 Available at live auction May 4th, 2012
Red Tulip, C12-002 36"X36" $2,200.00
Christ the King Catholic Church
School Gym at 8:15 pm
HOPE BALL 2012
The Hope Ball is an annual gala event hosted by the 20th Century Club to raise funding for the continued operation of the 20th Century Club's Lodge.
The 2012 Ball, themed "Garden of Hope", will be held on March 10, 2012, in the Statehouse Convention Center, Wally Allen Ballroom. The elegant evening will include both live and silent auctions, a delicious seated dinner, cocktails, and dancing to "Party Planet" until midnight. Complementary parking available at the Stephens Parking garage (5:00 pm - 1:00 am).
I am proud to participate every year in donating a painting to the Hope Ball to support raising money to help families exist while their loved ones are receiving important Cancer Treatments in Central Arkansas. Click (HERE) to find out more information about the Hope Ball and their mission. For tickets contact Jane Abell.
I think this year's painting is stunning. The painting is 72 inches tall and 24 inches wide and is a RED Cala Lily. It's tall and slender petals give it a beautiful appeal and would certainly add depth and color to a unique space in a home or business. Look below and make an effort to bid on this painting and take it home after the ball. Good luck. This painting will be "Full of Hope"!

"Full of Hope"
C11-002 72"x24"
ScottsArt by Scott Carle
Great article about Scott Carle in a leading Arkansas Magazine,
Celebrate Arkansas Magazine!
In 2011 I have had the opportunity to contribute several pieces of Art that have supported good causes. The first was in early February when I donated a piece to the Arkansas Arts Center for their fundraising activity called "Tabriz". This piece was framless and 30"X30" and was a red rose.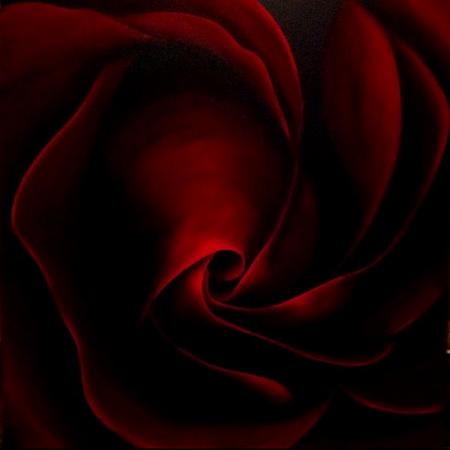 The next event was the 20th Century Club's Hope Ball. This was a well attended fundraiser this year and we have been able to continue to support it with donating art. The art piece this year was 60"X48" and was a rose also. Slightly different breed but very dimensional. It sold for close to $3,000.00 so we were pleased with its' performance. You can watch this piece of work being painted by going to one of the "EVO" galleries or just press HERE.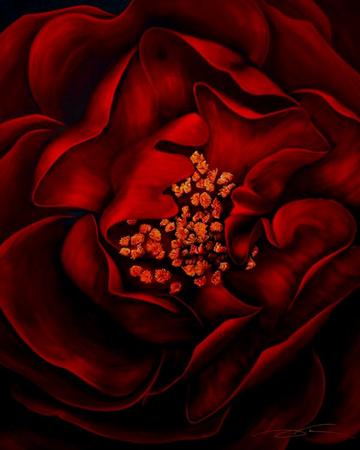 I also have a painting that is currently on display in the Arkansas Governor's Mansion. This piece is also a rose, and yes I like roses! It is 48"X60" and is on canvas. It is without a frame but can be framed and would make it a generous sized piece of work. Currently, you can watch this piece being painted by visiting one of my EVO galleries or just press HERE.