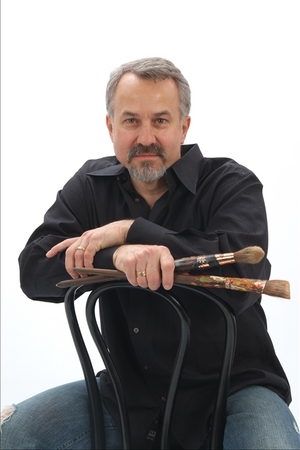 Scott Carle is a fifth generation Arkansan from Stuttgart. He is an award winning artist who has studied art for over thirty five years. His grandfather, A.P. Finken, who was nationally recognized for his religious and wildlife paintings, inspired Scott as a child to begin painting.
Scott's art gives him an opportunity to explore and create images without limitations, timelines or rules. he begins each painting with a large canvas or hardwood panel and paints it black, then creates an image until it takes on its own energy and spirit. Carle's vivid colors and explosive movement is fused in his paintings, giving each work of art a part of his personality and style. Edward Lucie-Smith, a noted 20th century art historian, predicts that the trend toward collecting will be "works of real personality." In the focus of today's collector, Carle is perfectly poised.
Scott is also a Medical Doctor and is a lead physician for Concentra, Inc. in Arkansas and a medical consultant for Pinnacle Pointe Behavioral Health System. He and his wife, Denise, live in Little Rock and have five children.